Summer Tips for Dogs
Helping Rover Beat The Heat!
People usually prepare themselves for the dangers of increased temperatures. But as the dog days of summer approach, our trusted companions also need special attention to insure that they don't get burned. Like for us, the summer months bring an increased danger of heat exhaustion and heat stroke for dogs.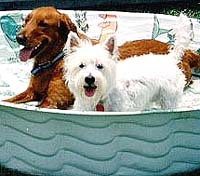 People naturally regulate their body temperature by sweating. Dogs mainly cool themselves by panting, or breathing in through the nose and out through the mouth. The process of panting directs air over the mucous membranes (moist surface) of the tongue, throat and trachea (windpipe). The air that is flowing over these organs causes evaporation, thus cooling the animal. Another mechanisms that helps remove heat includes dilation of blood vessels in the skin of the face, ears and feet. Dilated blood vessels located on the surface of the body cause the blood to loose heat to the outside air.
A dog's normal body temperature is 100.5 to 102.5 degrees Fahrenheit. Like people, dogs can become overheated. If it rises to 105 or 106 degrees, the dog is at risk for developing heat exhaustion. If the body temperature rises to 107 degrees, the dog has entered the danger zone of heat stroke. With heat stroke, damage to the body can be irreversible. Organs begin to shut down, and veterinary care is immediately needed.

Fortunately, if owners recognize heat exhaustion, they can prevent the dog from entering heat stroke. People can easily recognize when the heat gets to them because they become lightheaded and fail to sweat. For dogs, early signs of heat exhaustion may include failure to salivate and a dry mouth. Heat exhaustion may also include a dog lying down and looking tired, losing its appetite, and becoming unresponsive to owners.
If heat exhaustion progresses into heat stroke, the dog becomes very warm to touch and may have seizures. Internal mechanisms roll into effect that may cause blood clotting and organ damage. If you are near a phone and think that heat stroke is a possibility, call your veterinarian immediately. If a veterinarian is not within reach, or while waiting for a veterinarian, get the dog out of the sun and cool him or her down with cool water baths (cool
[ Search Articles ] [ Article Index ] [ Previous Page ]